Dunston Staithes: £1m restoration complete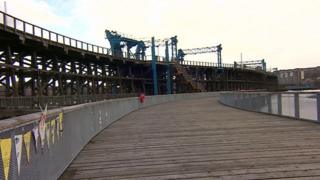 A Grade II listed timber structure on the River Tyne has reopened to the public after a £1m restoration.
The 140-year-old Dunston Staithes in Gateshead played a crucial role in the transport of millions of tons of coal.
The wooden staithes was closed in 1980 and abandoned with the demise of the coal industry and fell victim to vandalism and two fires.
Gateshead Council now hopes the structure will attract thousands of tourists every year.
The staithes was built by the North Eastern Railway at a cost of £210,000 and is thought to be the largest timber structure in Britain.
The Heritage Lottery Fund contributed £420,000 to the project.
The fund's north east chairman and former Sunderland MP Chris Mullin, said: "We're delighted to see the reopening of Dunston Staithes and the securing of the future of one of the region's most important links to its industrial past.
"The project will provide opportunities for the local community and visitors to access this heritage, as well as providing a safe haven for our local wildlife."
Gateshead Council leader Mick Henry, added: "Dunston Staithes are a lasting symbol of Gateshead's industrial strength and ingenuity.
"They're also a vivid reminder of the enormous role that Gateshead played in the heavily-linked history of both the coal and railway industries.
"This restoration project will allow more people the chance to come along and learn about the history of the staithes and to truly appreciate this impressive structure."