Blyth charity awarded £777,200 to restore tall ship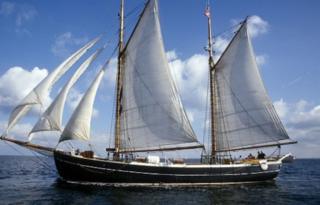 A charity has been awarded £777,200 to explore its maritime heritage and renovate its own tall ship.
Blyth Tall Ship will use the Heritage Lottery Fund cash to restore a 100-year-old wooden vessel from Denmark.
Blyth, in Northumberland, is already playing host to the tall ships regatta next summer, with vessels from around the world expected for the weekend-long festival.
A Blyth Tall Ship spokesman said he was "tremendously excited" by the project.
The ship, Haabet, which is being bought by the charity from Svendborg in Denmark, is of a similar size and design to the merchant brig, Williams.
That vessel, built in Blyth in 1813 and skippered by local Captain William Smith, discovered the first land in Antarctica in 1819, according to the Heritage Lottery Fund (HLF).
It is hoped the renovated ship will be able to mark the 200th anniversary of the discovery by recreating the original voyage.
The funding will also be used to explore, through archive research and the practical restoration of the Danish-bought ship, the life of merchant adventurers from the North East.
The project will see 50 people and volunteers trained in boat-building skills.
Ivor Crowther, head of HLF North East, said: "We're incredibly proud to be supporting this internationally important project which will bring the story of shipbuilding and the lives of sea adventurers from the North East alive for visitors and locals alike.
"It will not only ensure the survival of the historic ship but will teach people practical, sustainable heritage skills along the way."
Once the ship is fully restored, it will be on show to the public at the quayside.