Pilgrims erect crucifix on Sunderland's Tunstall Hill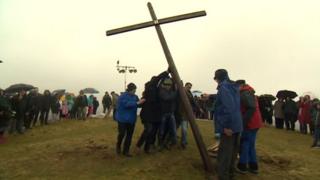 Hundreds of people have taken part in the 50th annual Good Friday pilgrimage to erect a wooden crucifix on a hill in Sunderland.
The 15ft (4.5m) cross was carried from Sunderland Minster and raised on Tunstall Hill and a service followed.
Ernie Rowntree, who has helped organise the event every year since 1966, said they chose the hill because it was so prominent.
"On a good day you'd be able to see it from anywhere," he said.
Worshippers have also completed an Easter pilgrimage to Lindisfarne in Northumberland carrying large wooden crosses.
Northern Cross pilgrims retraced the routes travelled by early saints from Lanark, Carlisle, Melrose and Dunbar to cross the sand to Holy Island barefoot.