Tynemouth RNLI Lifeboat crew in all-night rescue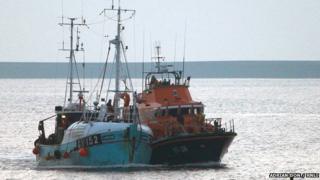 A lifeboat crew brought a fishing boat to safety in an all-night rescue involving a 120-mile round trip.
Tynemouth RNLI volunteers were called out at 20:30 BST on Thursday to assist the Sanrene after its nets caught in the propeller, stopping the engine.
It took two hours to reach the stranded vessel, and a rope was attached for the 60-mile tow back to North Shields.
On arrival, at 06:30, some of the lifeboat volunteers had to go straight to their regular jobs.
Adrian Don, from Tynemouth RNLI, said: "This is one of the furthest rescues any Tynemouth RNLI lifeboat has carried out, and is probably the longest tow.
"It lasted over 10 hours and the volunteer lifeboat crew members were tired and hungry on their return, with some having to go straight to work.
"This comes just a day after our lifeboat and volunteer crew towed another fishing vessel to safety in a five-hour, 50-mile round trip."