Durham University river deaths: Safety measures recommended in report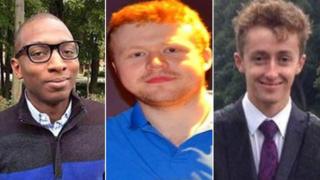 A safety review following the deaths of three university students in 18 months has recommended enclosing parts of the River Wear in Durham with fencing.
Sope Peters drowned in 2013, Luke Pearce died in 2014 and Euan Coulthard in January. All had been out drinking.
The Royal Society for the Prevention of Accidents (RoSPA) assessed 17 areas in the city.
Its report recommended isolating access to the river corridor with fencing or high gates and improving lighting.
Over the past five years, 51 incidents and five fatalities have been recorded in Durham.
Consultants assessed different sections of the river throughout February and March to enable a "range of risks" to be sampled.
RoSPA said optimising safety is something they are "keen to encourage", however, installing fencing or gates would be "very expensive".
They found the river corridor was a "tremendous asset" to the city and it was "clearly of interest" to the public.
The report stated enclosing parts of the river could also mean people could not enjoy the area to its "full potential", and the spaces could become a "significant hot spot" for anti-social behaviour.
Chair of Durham City Safety Group, Terry Collins, said they would do "everything they can" to ensure the city was safe when they draw up an action plan.
Since the deaths, some Durham University students have taken up roles as volunteer wardens, and measures including the provision of late-night taxis have been introduced.
David Walker, head of leisure safety at RoSPA, said: "The response from the agencies involved is commendable, as is the excellent work carried out by volunteer organisations.
"City safety covers a complex and broad spectrum of areas and we have highlighted a range of physical and practical measures which we believe will build on the good work done to date."