Durham Police adopt US child abuse detection programme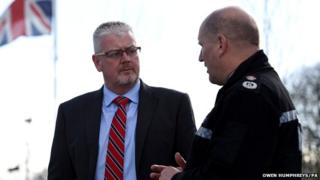 Durham Police officers have been trained to use an American system of spotting child abusers.
The force is the first in the UK to put 400 frontline officers through the Intervene to Protect a Child (IPC) programme.
The scheme teaches people to look for hidden signs of potential abusers, such as certain clothes, tattoos or books.
Durham Constabulary said it had already used the training to identify a man who posed a risk to a child.
The programme was developed in the US by the Texas Rangers, with advice from Dr Joe Sullivan, who has assisted detectives on the Madeleine McCann disappearance and the murder of April Jones.
Key indicators
Durham Constabulary's Chief Constable, Mike Barton, said the programme gave staff support to "do a bit more digging".
"We are giving them the confidence to recognise, if people wear certain clothing, if people have certain tattoos, if people behave in a certain way, that might be an indication," he said.
After training, a community support officer identified a man in his 80s who had a history of sexual offending against children and was being visited by a woman with a young child.
Public sector workers including teachers, fire officers and health workers have also been trained.
Dr Sullivan said his knowledge of the behavioural signs of paedophiles came from interviewing thousands of perpetrators.
He said: "I have learned from what they have had to say, what are the key indicators that someone who may not have that level of knowledge may not pick up on."
"This training is about targeting frontline staff who are not working in the arena of child sexual exploitation."
Staff were also trained to look out for signs children were being abused, he said.