Tipu Sultan murder: Family's world left 'shattered'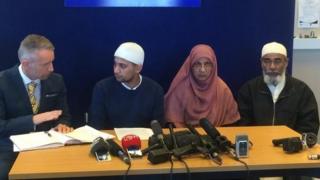 The family of a man who was shot dead outside a takeaway in South Shields say it has left their world "shattered".
Tipu Sultan, 32, was found with a single gunshot wound on 7 April at the back of the Herbs n Spice Kitchen, where he worked.
In a statement on behalf of the family, his brother, Mahsum Sultan, said Tipu was the "foundation" of the family.
A 35-year-old Newcastle man was arrested on Sunday in connection with the death and later released on bail.
Mr Sultan was shot at close range in what police believe was a planned killing. He was treated by paramedics but died at the scene.
His family has run the restaurant in Lake Avenue for more than a decade.
Mr Sultan's brother, along with his father Amin and mother Aleya, attended a press conference at South Shields police station to appeal for information.
The family said his wife Julie was "too upset" to be there and had been left "devastated" by the "love of her life's" death.
Mr Sultan had a seven-year-old son and a two-year-old daughter who "adored" their father.
In a statement, Mahsum said: "As you can imagine the sudden and violent way that my brother died has left our world shattered.
"Tipu was a family man. He was loved and respected both within our family and in the communities of Sunderland and South Shields.
"We are grateful for the support we have received from both communities and we thank anyone who has already provided information to police to help catch Tipu's killer."
Police believe the getaway vehicle - a large red, performance-style motorbike - headed towards the Whitburn and Sunderland areas.
Det Chf Insp John Bent said more than 100 officers had been working on the case.
He said the killer was thought to have spoken a few words to Mr Sultan to identify him before he was shot and is then thought to have shouted "Go, go, go!" in a North East accent to the biker.
CCTV images were released on Wednesday showing two men heading away from the scene on a motorbike, moments after the victim was gunned down.
Officers ruled out race as a motive for the fatal shooting.