Lights worth £20,000 stolen from Penshaw Monument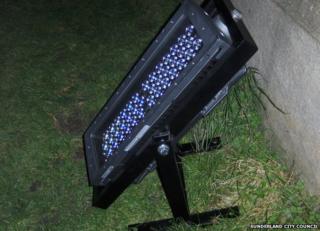 New floodlights worth £20,000 have been stolen from the Penshaw Monument near Sunderland.
The Philips LED Colour Reach units were taken sometime between 17:00 BST on 18 April and 05:00 BST on 20 April.
Thieves used boltcroppers to break through security gates and the light casings.
Sunderland City Council said the lights would be of no use to anyone else but their theft is a frustrating set back to an upgrading project.
Les Clark, head of streetscene at the council, said: "The thieves appear to have gone to some considerable effort on this and yet the lights are of little use to anybody."
Police are appealing for information.
Penshaw Monument is a replica of the Temple of Hephaestus in Athens and was built in 1884 as a monument to the Earl of Durham.