John Simpson Kirkpatrick's Gallipoli heroics remembered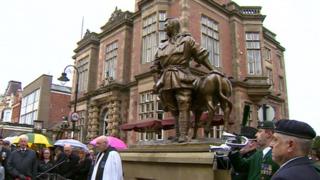 The centenary of the Gallipoli campaign in World War One has been marked in the North East.
A service was staged at the John Simpson Kirkpatrick memorial statue in Ocean Road, South Shields.
Private Kirkpatrick, who was born in the town, rescued more than 300 wounded Australian and New Zealand soldiers on his donkey.
In Berwick, Northumberland, the role of local soldiers was marked with a programme of displays and talks.
Private Kirkpatrick was killed, aged 22, by a sniper's bullet on 19 May 1915, but his efforts resulted in him being highly regarded in Australia.
There was a one-minute silence at the memorial at 11:00 BST followed by a rendition of The Last Post. A wreath was then laid at the foot of the memorial.
The Mayor of South Tyneside, Fay Cunningham, said: "John Simpson Kirkpatrick is rightly a national hero in Australia for his bravery at Gallipoli.
"The campaign was one of the Allies' great military disasters... but it also stands out for the immense bravery of the Anzac troops, of whom John Simpson Kirkpatrick was one.
"He is a local hero and we are proud to honour and remember him alongside all the service personnel who lost their lives at Gallipoli."
Across the weekend, events at Berwick Library, the King's Own Scottish Borderers Museum and in Barracks Square commemorated the efforts of the 1st Battalion, King's Own Scottish Borderers who landed at Cape Helles on the first day of the campaign.