Barbie doll and outfits sell for £570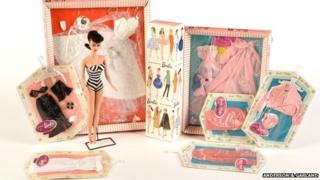 A Barbie doll and some of her outfits, that lay forgotten in a drawer for 50 years, have sold for £570.
The late-1950s type three Barbie, that has never been played with, was put under the hammer with some unopened outfits in their original packaging.
It was hoped the six lots would sell for £1,000 but three remained unsold. The doll fetched £250 and some of her outfits went for £320.
The doll was found at Fallodon Hall, near Alnwick, in Northumberland.
It is thought she is one of the very first Barbies ever made and was originally bought in the United States.
The doll has a brunette ponytail, trademark high eyebrows, high-heeled sandals and a black and white swimsuit.
Seller Lucia Bridgeman, from Fallodon Hall, believes it was originally bought by her husband's great-grandmother who was from Connecticut.
She said: "I think the Barbie was forgotten about. She was put away in a drawer and found 45 years later.
"I think they're works of art now, they are history, they are fashion archives - they are beyond toys to be played with.
"I think the Barbie is heaven but I don't have the place to show her off. Unfortunately my husband doesn't share my fascination and I have three boys and a tom-boy daughter, so I think someone else will appreciate her more."
Barbie Millicent Roberts was first introduced to the world in 1959 at the New York Toy Fair.
A 1959 model sold for just over £18,000 at an auction in 2006 and, in 2010, a Barbie doll wearing a diamond necklace was sold in New York for £191,500.