Boat Race of the North returns after five-year absence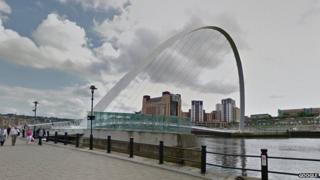 The Boat Race of the North is returning to the Newcastle-Gateshead Quayside following a five-year absence.
Starting under the Redheugh Bridge and finishing past the Millennium Bridge, the 1500m race first began in 1997 but stopped in 2010 due to funding issues.
The competition sees rowers from Durham University go head-to-head with those from Newcastle University.
Tim Clarke, president of Newcastle University Boat Club, said he was "very hungry" for victory on the River Tyne.
Durham captain James Styles said it was always good to have a "one-on-one" with their rivals.