Euan Coulthard river death 'accidental' coroner rules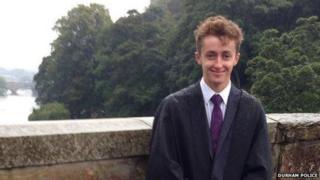 A student who drowned in the River Wear in Durham died as a result of an accident, an inquest has heard.
Euan Coulthard, 19, of Bottesford, Leicestershire, went missing after a night out on 14 January. His body was found in the river a week later.
An inquest was told that on the night he disappeared he had been asked to leave a city centre nightclub because he was "stumbling".
Coroner Andrew Tweddle ruled the cause of death was accidental.
Toxicology tests showed the undergraduate had a blood-alcohol level of 167mg per 100ml of blood, more than twice the drink-drive level.
The pathologist said: "For a normal social drinker this level would lead to the sense of intoxication, obvious drunkenness, unsteadiness of gait, slower reflexes and poor judgement or lack of judgment."
'Difficult issues'
He was the third Durham University student in just over a year to die in the river after a drinking session.
Professor Graham Towl, Pro-Vice-Chancellor and Deputy Warden at the university, said: "The students and staff at St Mary's College and the wider university are still trying to come to terms with the tragic death of Euan.
"He is deeply missed and we continue to help each other and provide support to the many people who are profoundly affected and distressed by Euan's death.
"As a university, we are working as part of the City Safety Group and with our students to look at what more we can do.
"We have further developed our education programme on personal safety and we are working closely with our Students' Union which has been very active in helping to address these difficult issues."
After the inquest, his family said in a statement: "The world is now a much poorer place without this fine young man, our beautiful son Euan."