Grandmother forgives Newcastle bird bath apology thief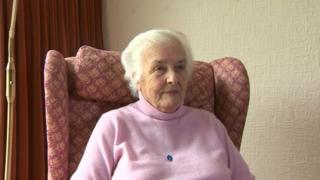 A woman has forgiven a thief who left a note of apology after stealing her much-loved bird bath.
Grandmother Jean Crilly, 82, said she was astounded to see the bath had been taken from her home in Newcastle.
Five days later, she found a note written on a piece of cardboard in which the apologetic thief claimed they had taken the bath to give to their mother on her birthday.
Mrs Crilly said she now thinks of the thief as a "poor soul".
The bath has sentimental value for Mrs Crilly as she bought it with her late husband and enjoyed watching the birds use it.
"I absolutely was astounded to see the bird bath was missing, it was such a heavy item," she said.
"I love watching the antics of the birds and I miss it, and the birds miss it as well."
The note said: "Sorry I would not do this in a million years but I had to, it is my mother's birthday and I am in a very bad place. I cannot afford a present. I'm really very very sorry and when I can afford it I will replace it."
Mrs Crilly, who wants the thief to return the bath, said: "I thought poor soul, his conscience is troubling him, what state must he have been in if he was driven to steal, and why could he not explain to this mother?"
PC Christopher Dorman from Northumbria Police said: "It is clear that the offender feels guilty about his actions and I would urge him to come forward and contact police so we can reunite the bird bath with its owner."