Northumberland baby death case review outlines care failings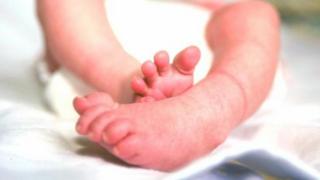 A serious case review into the death of a three-week-old baby born to a drug addict mother has outlined failings by care agencies in Northumberland.
The child was dependent on methadone and began to show withdrawal symptoms.
She died after three weeks having suffered a fractured skull and another possible neurological injury.
Her mother, Amanda Cole, of Cramlington, admitted neglect and was given a six-month jail sentence, suspended for two years, in October.
'Tragic'
The review was commissioned by the Local Safeguarding Children Board (LSCB) and said: "Although the likelihood is that the fracture was the result of either a forcible blunt blow to the head or an injury caused from being dropped, crushing or symptoms relating to Sudden Unexplained Death in Infancy (SUDI) cannot be fully eliminated therefore and as a result causation cannot be established."
It concluded there were a number of lessons for the agencies responsible for supporting the baby, called 'Eve' in the report, and her family.
In response to the review, Paula Mead, independent chairwoman of the LSCB, said: "Baby Eve's death was tragic and, collectively, we regret that there were several areas where agencies could and should have done better.
"With hindsight, there were a number of occasions in the months immediately before baby Eve's birth, and earlier during her mother's pregnancy, when professionals in a number of agencies could have acted differently and worked more effectively together.
"While we cannot say that if they had done so baby Eve's death would have been avoided, we can say that many of our agencies could and should have responded more proficiently and had much better processes in place."
The board found areas requiring attention included the need to improve the quality of supervision and the management of staff dealing with challenging cases.
Ms Mead added: "Our role is to safeguard and protect children and it is clear there were failings in this case which we fully accept and have worked to address."