First NHS emergency care hospital opens in Cramlington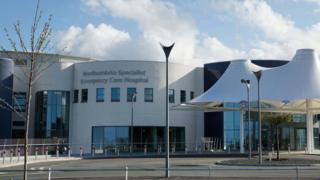 The first hospital in England purpose-built for emergency care has opened in Northumberland.
The £75m facility in Cramlington has emergency care consultants on duty 24/7, and a range of specialists available seven days a week.
However, its opening has led the downgrading of the A&E units at Hexham, Wansbeck and North Tyneside hospitals.
This has prompted concern that seriously ill or injured patients will have to travel further for treatment.
Northumbria Specialist Emergency Care Hospital, which has been described by health bosses as "a vision of the future", entirely separates emergency and planned care.
It will not treat outpatients or those with minor injuries, and will not keep patients in once they have been stabilised - all will continue to be treated at their local hospitals.
The A&E departments at North Tyneside, Wansbeck and Hexham hospitals now offer a 24-hour walk-in service for less serious conditions
'Breathe out'
Hospital bosses have said treating all seriously ill or badly injured patients at Cramlington will save more lives.
Although emergency patients might have to travel further, this would be counterbalanced by the specialist staff and facilities available for their sole use, they added.
Dr Chris Biggin, clinical director for emergency care, said: "By separating out the most serious emergency admissions into a different hospital both streams will run much more efficiently.
"We can provide better acute and emergency care, and on the base sites in North Tyneside, Wansbeck and Hexham, we can breathe out.
"This is just one building block in what is a raft of changes for [this area] and ultimately throughout the NHS."