Reggie Young: Sunderland dog bite baby's funeral takes place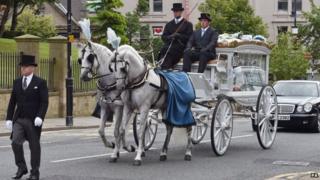 The funeral of a three-week-old baby who died after being bitten by a pet dog has taken place.
Reggie Young died in hospital following the attack by a small terrier-type dog at his home in Sunderland in June.
Reggie's body arrived at Sunderland Minster in a horse-drawn carriage.
On the roof were flowers from his mother, Maria Blacklin, and father, Ryan Young, with a note saying: "Sleep with the angels my son, never ever to be forgotten. Love always Mam and Dad."
During the service, Canon Provost Sheila Bamber said: "He was simply amazing in his perfection, absolutely gorgeous, a golden little boy who brought a ray of sunshine into your family."
The service preceded his burial at Bishopwearmouth Cemetery.
Following the dog attack, a 30-year-old man was arrested in connection with Reggie's death and bailed.