Newcastle Racecourse panto animals set new world record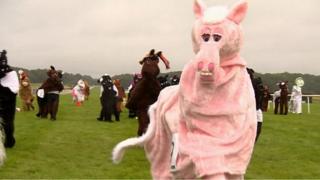 More than 100 people in pantomime animal costumes have broken a world record.
The Great North Gallop saw 128 people form 64 creatures to run 100m at Newcastle Racecourse in Gosforth.
From cows and horses, to camels and donkeys, they beat the Guinness World Record for the most entries in a two-person pantomime animal race.
The previous record of 53 pantomime animals was set at Kempton Park Racecourse in 2013.
The group, who held the event on Monday, were raising money for St Oswald's Hospice.