Bede's lost skull cast 'rediscovered'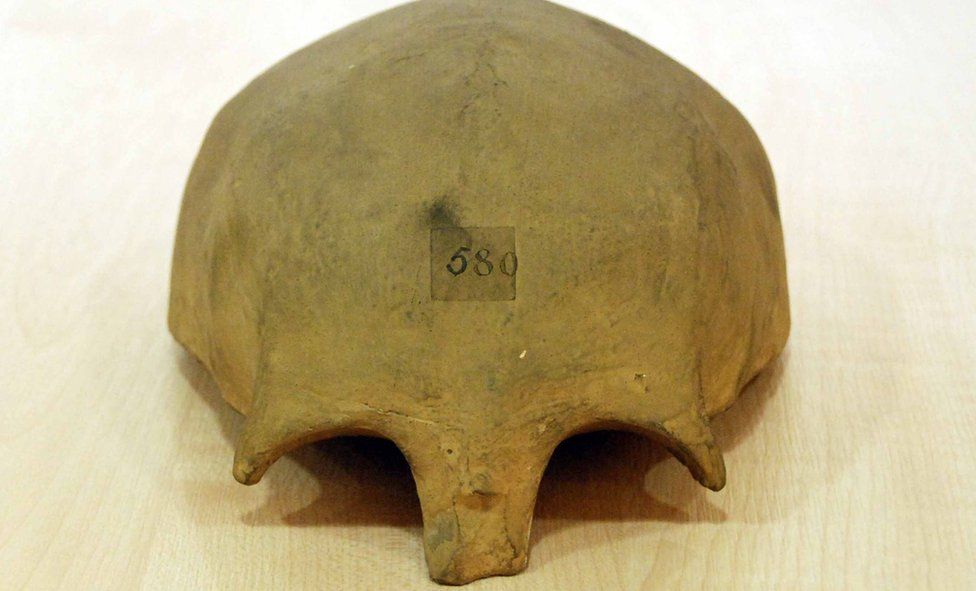 A cast of the skull of the Venerable Bede, which had long been thought lost, has been rediscovered and is going on display on South Tyneside.
The saint, who lived from 672 to 735, was an influential scholar and was also known as the father of English history.
In 1831, his tomb in Durham Cathedral was excavated and three casts made of his skull, but all later disappeared.
One has now been found in a collection at Cambridge University and will go on show at Bede's World in Jarrow.
Bede lived in the twin monasteries of Wearmouth and Jarrow where he wrote wrote and translated dozens of books on theology, history, nature, astronomy, and poetry.
His most famous work remains The Ecclesiastical History of the English People, which was the first work of history to use the AD system of dating.
His tomb in Durham Cathedral was excavated in 1831 by Dr James Raine, who was puzzled by the shape of the skull and had three plaster casts made before reinterring the bones.
One was given to Dr John Thurnam, a pioneering psychiatrist, who had also developed a specialist interest in ethnography and archaeology, but this, along with the others was later lost.
Prof Jo Story, of the University of Leicester, has now discovered it among the collections of the Duckworth Laboratory in the Leverhulme Centre for Human Evolutionary Studies (LCHES) at the University of Cambridge.
She said: "The story of The skull of Bede is one that takes us to the heart of 19th Century ideas about race and the peopling of the British Isles in antiquity.
"It traces the thread of evidence that links the cast in the Cambridge cupboard back to the excavation of Bede's tomb in Durham Cathedral in 1831, and from there back to the destruction of the medieval shrines of saints in Reformation England, to the devotion to the memory of Bede throughout the middle ages, and to the creation of Durham Cathedral in Norman England."
Related Internet Links
The BBC is not responsible for the content of external sites.