Message in a bottle boy sent reply from Norwegian 'pirates'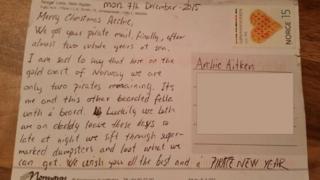 A boy aged nine has been sent a postcard from "pirates" in Norway after they found a message in a bottle he sent from Northumberland two years ago.
Archie Aitken wrote the note, "I hope you find your treasure, when I grow up I would like to join you", and put it in a plastic a bottle in the Tyne.
Sent from more than 1,000 miles in Lista, Norway, Archie and his family now want to find the mystery pirates.
Archie said: "There's only two pirates left so it shouldn't be that hard."
Archie's mother, Suzanne, said he had sent the bottle, from Hexham, after becoming "obsessed" with the film Treasure Island.
She said: "It's quite special. We had completely forgotten about it.
"Then on Saturday morning, with all the Christmas cards, lo and behold there was this postcard from Norway. We were so shocked and delighted.
"It's a mystery. But then pirates are like that. They are at sea for long periods of time, so maybe they don't want to be found."