Tynemouth Pool revamp: Digging begins at derelict site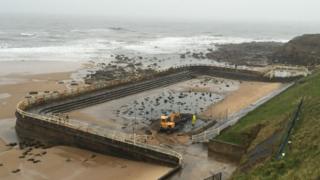 Digging has begun at an abandoned outdoor swimming pool which campaigners hope could be restored to its former glory.
Tynemouth Pool, in North Tyneside, was once a popular visitor attraction but has been derelict since the 1990s.
Campaign group the Friends of Tynemouth Outdoor Pool is carrying out a survey to find out what the pool tank was filled with when it was decommissioned.
Refurbishment proposals have been submitted to North Tyneside Council.
The group said it was carrying out the work to get a "better idea" of what will be involved to dig it all back out.
The survey was made possible using money awarded from the government's Coastal Revival Fund.