Northumbria Police premises used as 'love pads'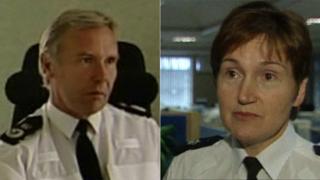 Senior officers used police premises as "love pads" to carry out "illicit relations", a tribunal has heard.
A tribunal brought by Northumbria Police's former head of legal services, Denise Aubrey, has heard about alleged affairs between senior officers.
Ms Aubrey is claiming unfair dismissal after being sacked in 2014 for gross misconduct, which the force denies.
Giving evidence, PC Bryn Jones, said using force buildings became "such a joke" they were nicknamed "love pads".
The employment tribunal, at North Shields, previously heard how former chief constable Mike Craik was accused of lying to cover up an alleged affair with his assistant chief constable, Carolyn Peacock, but was accosted by her chief superintendent husband, Jim, who punched him at a barbecue.
Retired PC Jones, said posters of Mr Craik in police stations were defaced showing him with a "blacked over" eye.
He was giving evidence in support of Ms Aubrey, 54, who is also claiming sexual and disability discrimination.
She was accused of gossiping about the alleged affair, after having given confidential advice to the police chief about libel.
'Subject of gossip'
Mr Jones, a Police Federation representative, said as far as he was concerned, the relationships were "far from confidential".
"I would also suggest that matters were very much in the public domain being the subject of gossip by local criminal solicitors," he said.
He said "many" officers were summoned to briefings in 2007 by their shift inspectors and told the barbecue fracas "had not occurred".
Revelations of a second affair between retired assistant chief constable Greg Vant and his chief constable's secretary Juliet Bains have also emerged.
The pair have strongly denied the claim.
Mr Jones said it was thought Mr Craik heard rumours his secretary was having an affair with Mr Vant.
In a statement, he said: "There was also a suggestion Mr Craik was furious about this.
"Apparently not only was it known that he was himself fond of Ms Bains, but also that Mr Vant, when confronted about the matter had lied to him and had apparently taken advantage of her with his rank."
He said accommodation facilities at Ponteland behind the headquarters were used by senior managers for "illicit relations".
He said the gossip about senior officers was a source of "great humour" for staff as "sad as it may be."
The case continues.