Shields Ferry gets first female skipper in 40 years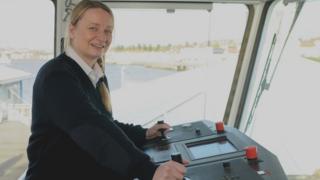 The Shields Ferry has appointed a woman skipper for the first time in its 44-year history.
It has taken Nicola Peach just six months to pass her boat "driver's test" after being hired as second mate.
Ferry operators Nexus said that slow staff turnover and few previous female applicants meant it had never hired a woman until 2015.
Carol Timlin, who became the ferry's first female manager in 2008, said she was delighted.
Ms Peach, 37, has been awarded her boat master's licence which means she can take the controls of the ferry on daily crossings between North Shields and South Shields.
She said: "The test was really thorough and I was a little bit nervous, but all of my training paid off and it went well."
Ms Peach, from Marsden, South Shields, worked on cargo ships and oil tankers in the Merchant Navy for eight years.
Ms Timlin said: "Nicola has done extremely well. We're all delighted for her.
"She has passed her test at the first attempt. I never had any doubts, given her commitment to the training and her experience from her time at sea.
"She's now officially the first female Shields Ferry skipper."
The Shields Ferry currently transports roughly 500,000 people annually, and passenger numbers have been increasing since 2008.
Nexus has operated the route since 1972. The service used to be known as the Market Place Ferry.