Mohammed Abdul Kahar jail term for IS recruitment increased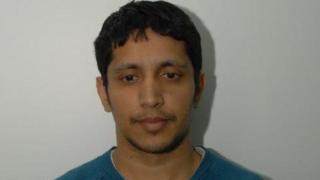 A man jailed for five years for trying to recruit others to fight for the so-called Islamic State in Syria has had his sentence increased.
Mohammed Abdul Kahar, 37, from Sunderland, was found guilty of ten terrorism-related offences by a jury at Newcastle Crown Court in November.
He was also convicted of planning to join IS in Syria himself.
A Court of Appeal review found the sentence imposed was "unduly lenient" and increased it to eight years.
Kahar, who denied the charges, was convicted of preparation of a terrorist act and five counts of disseminating terrorist publications.
He was also found guilty of a funding offence and supporting a proscribed organisation.
Kahar's sentence was among a number reviewed by the panel of judges, headed by Lord Chief Justice Lord Thomas, in which defendants had either been convicted of, or pleaded guilty to, terrorist offences.
Lord Thomas said his offending was serious "given his persistence in attempting to persuade others to join Islamic State and fight for them or to join in their terrorism".