Waste dump boss Gary Maw ordered to pick litter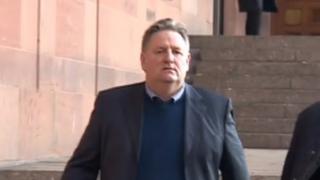 A businessman who illegally dumped thousands of tonnes of waste has been ordered to pick litter as a punishment.
Gary Maw, 54, was a director of North East Waste Products and Green Energy Power at Houghton-le-Spring, County Durham, where rubbish was piled 27ft (8.2m) high.
Teesside Crown Court heard dust and debris blew on to the neighbouring Hetton Lyons Country Park.
He was fined £5,000 and ordered to do 130 hours unpaid work.
Maw, of Pittington, County Durham, admitted four charges of breaching a waste management permit as well as one charge of non-compliance with an enforcement notice.
The waste he failed to properly process included plastics, crushed brick, timber and manure and the cost to remove it was estimated at £200,000.
Much of the waste came from the building trade and Maw had applied for the relevant business permits in 2011 but was refused, the court heard.
Having remortgaged his family farm to set up the waste processing operation he is now struggling to afford the clean up, the court was told.
There had been no toxic discharges or harm to wildlife, although the waste mountain has attracted vermin.
The owner of a neighbouring caravan business said visitors were put off and he was eventually forced to close.
Judge Shaun Morris ordered Maw to pick litter so he could understand the "infernal problem" of waste.