Washington Wetland Centre sees record avocet numbers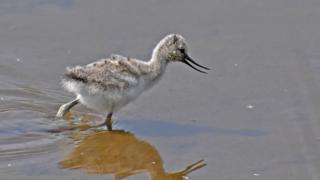 A wildfowl centre has recorded its highest number of rare avocet birds.
WWT Washington Wetland Centre has sighted 16 adults and 21 young this year, in comparison to 23 adult birds last year.
They have nested by a lake and shingle island which expanded by the centre last autumn. Breeding at the site started in 2006.
Reserve manager John Gowland said it was a "real conservation success story".
"The high number of youngsters is a positive sign on the success of the improved shingle islands and emphasises the growing confidence of the nesting adults," he said.
The birds, which are a rare on Wearside, were once declared an extinct breeding species in the UK.
The avocet returned in the 1940s and is the emblem of the RSPB.