Newcastle City Council could axe school crossing patrols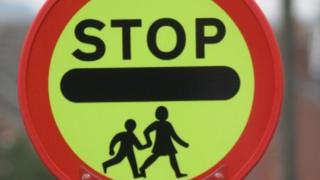 Almost all school crossing patrols across Newcastle could be axed at part of £70m budget cuts over three years.
The city council said it had reviewed all 55 crossings and only two were deemed to be a high risk category.
Getting rid of the 53 lollipop men and women would save more than £200,000.
Other areas of the Labour-run authority also face big cuts, including £4m from children's services, and more than £11m from adult social care, as well as the city's community and information hubs.
All proposals would have to be agreed at a full council meeting before they came into effect.
Leader of the council Nick Forbes said: "We've been through controversial decisions over the past few years around library closures, reductions in street cleaning, closures in leisure centres, and we've now got nowhere else to go other than to reduce the level of support we provide to people.
"The scale of the funding cuts means we have very little choice other than to look at very, very unpalatable decisions."