Clown pranks: Northumbria Police warn teenager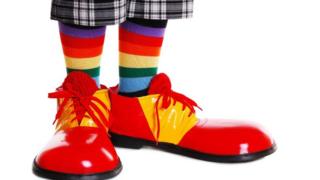 A teenager arrested for wearing a clown costume and trying to scare passers-by has been released with a warning by police.
The 13-year-old boy had been carrying a knife as part of his fancy dress.
Northumbria Police said it had received six separate reports of clowns jumping out from behind bushes in Newcastle since Friday.
Student Megan Bell, 17, said she was left terrified and screaming when one started following her in Fenham.
"As I saw the full clown costume, I noticed the mask and I just turned round and ran back up to the top of the street and every time I was looking over my shoulder it was still chasing me," she said.
'Really not funny'
"I was a girl, I was on my own, I was just screaming, shouting for help, no-one was doing anything.
"I'm terrified of clowns to begin with anyway. But I just kept running and running until it stopped."
Northumbria Police has received reports of clowns chasing people in the street but no-one has so far been injured.
Police said the boy arrested in Blakelaw was questioned and given a warning about his behaviour before being released.
They believe the incidents have been inspired by a trend in America but "don't believe there to be a risk to our communities".
Ms Bell said she was now scared to walk down the street on her own.
"It's really, really not funny," she said.