River Wear bridge pylon completes sea crossing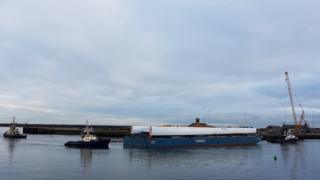 Part of a new road bridge being constructed over the River Wear has completed a two-day journey across the North Sea.
The three-span cable-stayed structure that will stretch between Castletown and Pallion is supported by a 115m (379ft) A-frame pylon.
This was manufactured on the continent and has been transported from the Port of Ghent in Belgium.
It travelled on a massive barge which docked at the Port of Sunderland.
Over the next few weeks it will travel up the River Wear to the site in Pallion, where it will be raised vertically into position.
The bridge is due to open in 2018