Durham teenager trapped in bedroom by rare condition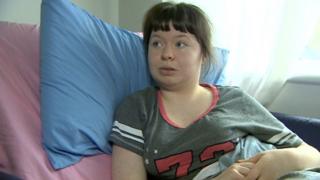 A teenager with a rare medical condition has waited three years for modifications to her home, effectively leaving her "trapped in her bedroom".
Jade Gadd, 16, from Durham, has Ehlers-Danlos Syndrome, which means her joints constantly dislocate.
She also has spasms and faints several times a day.
Durham County Council said the complexity of her condition and the number of agencies involved had delayed a decision on building adaptations.
Jade needs to navigate a steep stairwell and outside steps to leave the house.
She said: "I'd have to use a wheelchair and then I would go to my stairlift and I'm not allowed to use my stairlift whilst spasming so I think that's where I get stuck."
The seizures "come in waves" and she is in "constant pain everywhere", she said.
Her mother, Roz Gadd, said they have needed three ambulance crews to move her for hospital appointments.
"It is very, very hard to keep going," she said.
'Too much, sometimes'
"Sometimes we've been kneeling on the floor next to her bed, one of us trying to put different joints in while the other one's slept with their head on the bed," she said.
"It's too much, sometimes, to even think about."
Her father Tony Gadd, a former police officer, has cancer and neither parent can work.
Durham County Council's corporate director for adult and health services Jane Robinson said it had been "difficult to ascertain exactly what changes are required" to Jade's home.
"Recommendations have now been made and the maximum grant available has been awarded," she said.
The council has offered help to source the additional funding needed but Mr and Mrs Gadd said this amounted to a loan, which they cannot afford.