Sunderland friends win £15.3m Lotto jackpot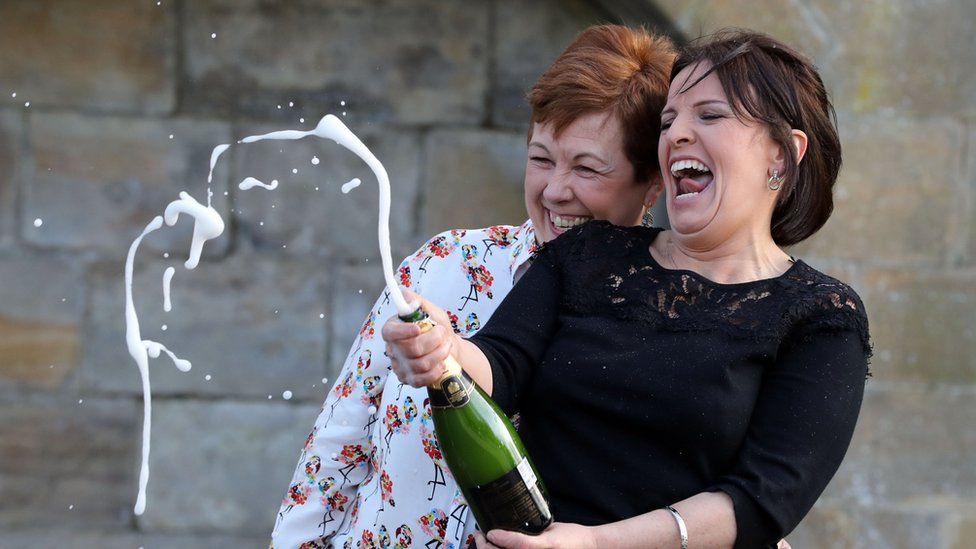 Two friends who scooped a £15.3m Lotto jackpot say they plan to take a first-class flight to Las Vegas.
Paula Barraclough and Lorraine Smith, from Sunderland, always share lottery wins and have previously put £25 prizes towards a holiday fund.
Now instead of a trip to the Greek islands, the pair, aged 45 and 54, are set to jet off to the United States.
Mrs Smith bought the ticket on Saturday on her way to work as a care home cook after finding £2 in her purse.
The widow was waiting for a bus at 06:30 GMT when she bought a Lucky Dip ticket.
That evening she and her mechanic son scraped together enough money for a Chinese takeaway as she said they were both "skint" waiting for payday.
She checked her numbers the following day and called her best friend at 07:15 GMT with the news.
Miss Barraclough told a press conference: "I said to Lorraine, 'You'd better be ringing to tell me that we have won the lottery'.
"She said 'yes'. I knew in her tone of voice it must be true."
The pair say they will "go wild" on a shopping spree, with Miss Barraclough looking for Chanel sunglasses and admitting she has an eye for handbags.
The cafe worker lives with her parents and will now buy a house in Sunderland.
Mrs Smith said she had no plans to move but will buy new windows for her home and a new frying pan.
Asked if she ever thought of not sharing the win, she said: "Oh no. I couldn't live with myself.
"I wouldn't do that to anybody."
Related Internet Links
The BBC is not responsible for the content of external sites.