Durham University opens £11.5m 'space centre'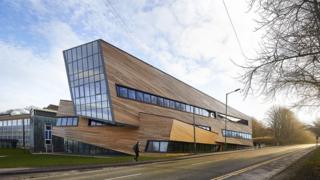 An £11.5m "space centre" has been opened by Durham University.
The Ogden Centre for Fundamental Physics will house 140 international researchers investigating the origins of galaxies and dark matter.
Along with laboratories and office space, the building also houses a 100-seat seminar theatre and is clad in Scottish larch.
It was designed by Studio Libeskind, the company behind the redevelopment of the World Trade Center in New York.
Prof Carlos Frenk, director of the Institute for Computational Cosmology, at Durham University, said: "The new centre represents a wonderful contribution to the unique architectural heritage of Durham City.
"Its design fits the requirements of a top-class research centre, dedicated to seeking answers to some of the most fundamental questions about our universe."
Architect Daniel Libeskind said: "This project is an example of how to design a highly-sustainable, dynamic building within tight programme requirements.
"Light and openness is at the core of the design and at every move in the design process we incorporated simple, yet robust materials and considered the users' experience to create this important building for Durham University."
The building, which took almost two years to complete, also features rainwater harvesting, a ground-source heat pump and solar panels to provide electricity.