Dumped dog set on fire in Newcastle woodland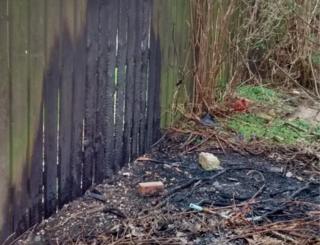 A dead dog has been dumped in woodland and then set alight, police have said.
The dog, believed to be a three-year-old male shih tzu crossbreed called Charlie, was discovered by firefighters in the Walker area of Newcastle at about 16:00 GMT on Wednesday.
Firefighters said they believe the dog, which had been wrapped in a bin bag, was dead when it was set alight.
The RSPCA said it was a "shocking and upsetting discovery".
RSPCA inspector Cathy Maddison said it was "horrific".
She said the dog had been micro-chipped, revealing the animal's name, breed and age but no further details.
Northumbria Police neighbourhood inspector Paul Duncan said it was a "distressing" incident likely to cause "anger and distress".
He appealed for witnesses or information.