Hospital urgent care night unit closure trial extended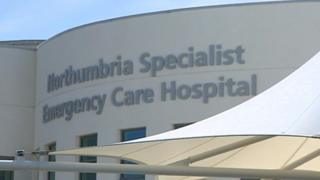 Urgent care departments at three North East hospitals will continue to stay closed overnight.
The units at Wansbeck, Hexham and North Tyneside have been closed between midnight and 08:00 GMT since December.
Staff were moved to the Northumbria Specialist Emergency Care Hospital in Cramlington, to help cope with an expected rise in 999 calls over winter.
Northumbria Healthcare NHS Foundation Trust has extended the closure of the "under-used" units for three months.
When it first announced the closures, the trust described it as a "temporary measure only".
It has now said there had been no clinical incidents as a result of the overnight closures, so nurses would remain at the Cramlington hospital, where they were most needed.
The closure remained temporary, and would be reviewed in June.
The trust's executive medical director, Dr Jeremy Rushmer, said: "Although it is now officially spring, it would not be a wise use of our staff's time and expertise to redeploy them back at this time.
"We've looked closely again at the data and spoken with our teams who agree that their skills are best used where they are of most benefit to patients during the night.
"Overnight activity at our urgent care centres has always been minimal as those who are seriously ill or injured are cared for in exactly the right place, at the Northumbria hospital."