South Tyneside GP-prescribed fitness classes axed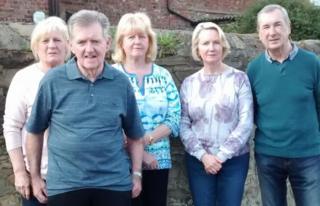 A programme of council-funded fitness classes for patients referred by their doctors has been axed.
South Tyneside Council said the classes in South Shields, Hebburn and Jarrow were "not effective".
Only 17% of those referred completed the 12-week course and less than 10% became more active, it said.
But Jacqueline Coing said her class was "always well attended" and the alternative for some would be "to go home and sit in a chair".
Referred because of her cholesterol levels, she found it so beneficial she paid to carry on after her 12-week funded period had finished.
People who had heart conditions, bypasses and strokes had "really come on in leaps and bounds" because of the classes, she said.
"If they're going to be discharged from hospital and left to their own devices, many of these people will just go home and sit in a chair," she said.
"Before very long they're going to end up back in the hospital."
South Tyneside Council said reduced budgets meant the council "must look at new and more innovative ways of supporting people".
Independence and wellbeing lead member Tracey Dixon said: "More emphasis will be placed on prevention services and promoting healthy living more widely, including access to the wide range of exercise and physical opportunities in council facilities and community-led programmes."
The council appreciated this was "an unsettling time for everyone concerned" and anyone already on a referral course would be able to complete it, she said.
Latest figures from the British Heart Foundation claim the north-east of England is the third worst area in the UK for physical activity.
More than 40% of adults in the region get no exercise, they suggest.