Hexham firms face court over development levy boycott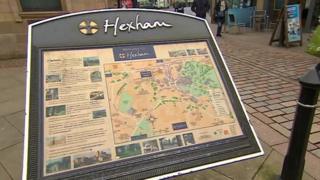 Almost 150 firms in a Northumberland town are being taken to court for refusing to pay a new levy aimed at boosting its economy.
Last year traders in Hexham voted for the creation of a Business Improvement District (BID) and contribute up to £10,000 a year each.
But some claim they have seen nothing more than "hanging baskets and signs".
Northumberland County Council has now issued summons to those that have refused to pay the "mandatory" levy.
A total of 232 out of the town's 650 registered businesses took part in last year's vote, with 66% of those opting in favour of creating a BID.
The levy is based on the rateable value of premises and is expected to raise about £1m over the next four years, with firms contributing between £200 and £10,000.
The cash is ringfenced and must be used on town improvements.
The project aims to boost tourism and "bring about positive improvements to the trading environment that benefits the whole community".
But garage owner Paul Robbie, who did not take part in last year's vote, said: "I've seen nothing so far apart from some empty promises of some hanging baskets and some extra signage.
"A lot of us feel that should be the council's responsibility anyway."
Brewis Gair, who runs Eastwood Engineering, said: "Hexham could turn into the Hanging Gardens of Babylon and you could pave the streets with gold, but my business and what I do will not benefit at all from any of this."
Nick Imrye, of Twenty First Century Herbs, voted for the levy, but says he now wishes he had not.
He said: "Apparently £10,000 is going to be spent on cleaning the streets. We say this is something that should be paid for by County Hall."
Helen Graysham, of Hexham BID, said: "Everyone will get something out of BID.
"We have a range of projects over the next four years, including improved street cleaning, signage and access and things like Christmas lights."
A spokesman for Northumberland County Council, which collects the levy, said it was "legally enforceable" and those who refused to pay would face court action later this month.