Stewart Caygill jailed for trying to forge mother's will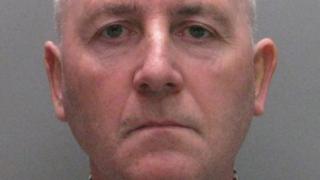 A son spelt his brother's name wrong when he forged their mother's will to try and swindle money.
Stewart Caygill, 53, had been taking money from his mother Theresa, then made himself the beneficiary of her estate, Teesside Crown Court heard.
But the scam was exposed after his brother Philip, 55, noticed his name had been spelt with an extra "l".
Caygill, of Horden, County Durham, was found guilty of forgery and jailed for four years.
His brother said after the hearing: "It's a huge relief, mainly to have the jury believe me. Initially when I first reported it I wasn't believed by anyone, they just thought it was a family feud.
"I have got no feelings for my brother - he's cold-hearted and blindingly greedy."
Mr Caygill said he knew something was wrong because his mother, who died in 2013 aged 84, had worked as a PA and was very particular about spelling.
He said: "Stewart had spelled my name wrong and my mum had been a PA for a big company, and she would never let any document out of her sight that wasn't correct. She was meticulous."
He also said he had kept letters from his mother which showed the signature on the will was fake.
The court heard how Caygill tried to claim more of the value of his mother's house than the quarter he was entitled to, on top of £26,000 he had taken from her bank accounts.
Philip Caygill, who works in construction, said his mother had told him his brother had been taking advantage of her before her death, but she did not want to cause any trouble.
"My mum was too old to rock the boat, and he threatened to stop coming to see her and he said he would stop bringing his daughter with him if she kicked up a fuss," he said.
A proceeds of crime hearing will take place at a later date.