Motorcyclist dies in collision with car at Bebside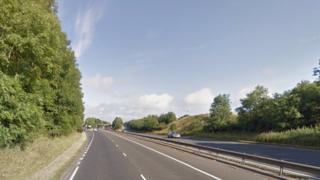 A motorcyclist has been killed and his female passenger suffered life-threatening injuries in a crash in Northumberland.
The collision, which involved a Kawasaki and a Vauxhall Corsa car, happened on the A189 Spine Road at 11:50 BST.
The male rider of the motorcycle was pronounced dead at the scene, beside the Blyth roundabout at Bebside.
The car driver was unhurt. Northumbria Police has appealed for witnesses.