Geordie Shore's Chantelle Connelly guilty of punching woman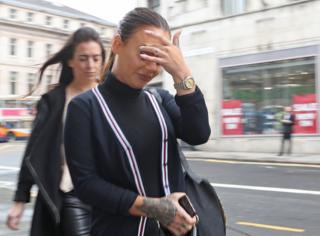 A former star on the reality television show Geordie Shore has been found guilty of punching a woman on a night out.
Chantelle Connelly, 27, denied assaulting the woman, whom she had met in a Newcastle bar in October.
Newcastle Magistrates' Court heard she had been "jealous" of the 22-year-old victim and repeatedly asked if she had "gone with" an ex-boyfriend.
Connelly will be sentenced in July.
Magistrates heard a mutual friend introduced Connelly to the woman, who recognised her from the TV show.
When they moved with a larger group to another bar in Stowell Street, Connelly "got jealous" about an ex-boyfriend, Tommy Sayers, the court was told.
Needed stitches
After she left the bar with two friends, Connelly followed and grabbed the woman's phone, the court heard.
She checked the woman's Facebook for evidence she had seen Mr Sayers, but did not find any.
The complainant told the court: "Chantelle was back in my face shouting 'have you been with Tommy?"'
The court heard as the woman walked off to get a taxi, Connelly hit her in the face, knocking her backwards so she fell.
Her wrist was broken and her lip was split, which required stitches.
Connelly denied being anywhere near where the attack took place and denied hitting the woman.
But magistrates accepted the victim's account.