Eel protections screens for Tees, Tyne, Wear and Coquet rivers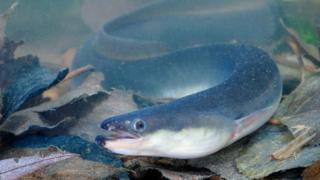 Screens are being installed on four rivers to prevent endangered eels from being killed by water pumps.
Northumbrian Water is placing protective screens at six places on the Tees, Tyne, Wear and Coquet in response to new regulations.
The £11m project aims to be completed by March 2020. Work has started at the Lumley pumping station on the Wear in Chester-le-Street.
Numbers of European eels have dramatically dropped since the 1980s.
Michael Walsh, Northumbrian Water project manager, said: "It's not known exactly why there's been such a dramatic decline, but this project will help ensure the safe passage of eels in our region and ultimately, I hope, will contribute to restoring populations."
Robbie Stevenson, from the Environment Agency, described the eels as "fascinating creatures".
He added: "They have a complex life cycle, beginning life in the Sargasso sea and undergoing several changes during their life maturing in European waters, before returning to the Sargasso to spawn."