Denise Aubrey tribunal: Northumbria Police tries to recoup £570k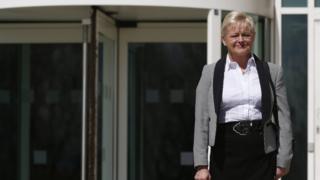 A police force is trying to get back more than £577,000 it spent defending itself in an unfair dismissal tribunal.
Northumbria Police's ex legal chief Denise Aubrey, 56, claimed she was unfairly sacked after disclosing private information to staff.
During a tribunal she said sex discrimination and victimisation were rife in the force. She lost the case.
Now, Northumbria Police is trying to recover costs from Ms Aubrey who said she did not have the money.
During the hearing last year, a series of damaging allegations were made about former members of the force, including details of alleged affairs, claims of a punch-up at a barbecue and public money being spent on a cover-up.
But Ms Aubrey lost her case, with current Chief Constable Steve Ashman saying many of the allegations were based on "speculation, rumour and innuendo".
'I cannot pay'
In a statement, she said: "I confirm that Northumbria Police has brought a costs application against me.
"In my long experience of working for Northumbria Police, it never made an application for costs following a tribunal claim, so this is unprecedented.
"It is seeking to recover over £577,000, which it knows I cannot pay. My legal costs did not exceed £40,000.
"I pursued my claim honestly and in good faith. I cannot comment further at this stage as there is a legal process and I do not want Northumbria Police to use any comment I make as further evidence against me in its application."
Ms Aubrey was sacked in 2014 after 20 years of service after apparently telling staff details of allegations involving ex-chief constable Mike Craik.
Northumbria Police was unavailable for comment.