Coast Road/A19 triple-decker bridge support installed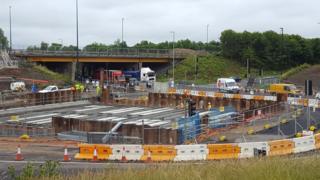 A 400-tonne crane is lifting into place huge concrete beams for a triple-decker roundabout replacing one of Tyneside's busiest junctions.
The 35-tonne beams are part of bridges which will support the A1058 Coast Road over the roundabout and this, in turn, over a lowered A19.
Highways England said the £75m scheme, which started a year ago, would reduce congestion and improve journey times.
Assistant project manager Steven Cox said it was "an exciting milestone".
It allowed for excavations for the underpass, which would be time-consuming and involve removing 80,000 cubic metres (2.8 million cubic feet) of earth, he said.
Almost half the 55 beams, which are 22m (72ft) long, have been installed.
Once finished, the three layers of road will allow drivers to continue straight along the A19 underneath the new roundabout.
The road is the main route to and from the Tyne Tunnel and is used by thousands of motorists every day.
More than 1km (0.6 miles) of cycleway would be improved and an extra 247m (270yd) created as part of the scheme, Highways England said.
A 30mph speed limit and narrow lanes are in place during the work.