Vandals shut 'I, Daniel Blake' food bank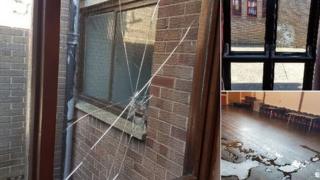 A food bank featured in the Bafta award-winning film 'I, Daniel Blake' has been forced to close due to a vandal attack.
Church of the Venerable Bede in West Road, Benwell, has closed after a fire extinguisher was used to smash its windows and damage the main hall.
Food bank manager Michael Nixon said about 100 people collect their food allowance from the site each day.
Director Ken Loach filmed scenes at the site with volunteers playing extras.
The film was shot in 2016 and tells the story of Daniel Blake who ends up being plunged into poverty and losing his disability allowance after being diagnosed with heart problem.
Mr Nixon said nothing was taken during the "mindless" attack but the damage is extensive.
"I don't think it was an act against the food bank and the work we do, its just mindless vandalism that stops us doing the work we do," he said.
"We had a break-in last week with less damage done and some money was taken from a cupboard so they may have come back hoping there was going to be [more cash].
"We are just seeing what repairs need to be done so we can get open, so if anyone out there could donate a glazier for free they would be very welcome."
I, Daniel Blake won the prestigious Palme d'Or at Cannes and also the Bafta for Best British film.