Hadrian's Wall £14.8m visitor centre opens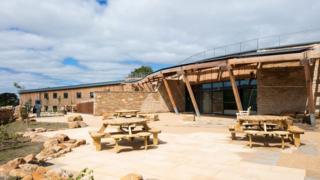 A £14.8m visitor centre at Hadrian's Wall in Northumberland has opened to the public.
The Sill: National Landscape Discovery Centre, which includes a cafe, youth hostel, and exhibition and events space has been constructed at Once Brewed, near Hexham.
Northumberland National Park Authority said it hoped it would attract at least 100,000 visitors annually.
It described it as "a sustainable cultural and economic asset".
As well as being a visitor centre, it will function as a research site for countryside management and conservation.
The authority's chairman, Glen Sanderson, said: "Our vision is for the nation's exceptional landscapes to be enjoyed by as many people as possible, and to provide the opportunity for people to explore, understand and nurture these landscapes and the people, heritage and wildlife that shape them.
"That is why Northumberland is the natural home for The Sill."
Coinciding with National Parks Week, a series of events and activities have been staged within the park in the lead-up to the centre's opening.