St Cuthbert's coffin is centrepiece of Durham Cathedral display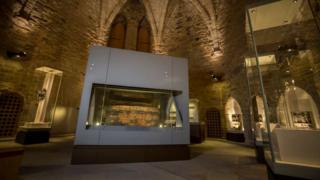 A rare collection of Anglo-Saxon artefacts, including the wooden coffin of St Cuthbert, has gone on display at Durham Cathedral.
Other items on show include his pectoral cross and comb.
The permanent exhibition is housed in the Great Kitchen - one of only two surviving monastic kitchens in England.
St Cuthbert was a monk, bishop and hermit of Lindisfarne who lived in the kingdom of Northumbria. He died in 687.
The Lindisfarne Gospels were produced in his honour.
'Extraordinary' artefacts
Art historian Dr Janina Ramirez said: "It is the most intact glimpse of our medieval past focused on possibly one of the most important Englishmen of the period, St Cuthbert.
"These artefacts bring the time and character to life and to have them exhibited in one of the few remaining monastic kitchens in the country is extraordinary."
Who was St Cuthbert?
Patron saint of northern England
634 Year he was born

53 His age when he died

Holy man He spread Christian teachings and guidance

Hermit Lived in a cell on Farne Islands after his retirement

Relics His body was said to be still intact years after his death

Durham Was his body's final resting place after touring the north
Getty Images
Many cathedrals across the UK are suffering financial pressures with some facing closure.
Durham Cathedral's Very Reverend Andrew Tremlett said the £7.50 admission fee for the Treasures of St Cuthbert exhibition would "keep the cathedral open for everybody".
He said: "These things are different in different parts of the country. It depends on your visitor mix.
"We want to keep the cathedral there for the whole community, but also be able to balance the books."