Samantha Madgin murder: Jordan Jobson could be freed next year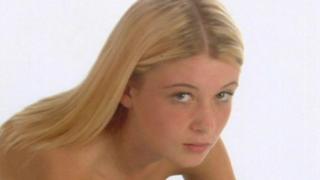 The family of a new mother who was stabbed to death in an alley have spoken of their despair that her killer could be released after a decade.
Samantha Madgin, 18, who had only given birth to son Callum two months earlier, was knifed to death in 2007 as she tried to break up a fight in Wallsend.
Jordan Jobson, then 15, was convicted of her murder but has twice had her sentence cut.
Miss Magin's sister, Carly Barret, said sentences needed to be tougher.
Jobson was sentenced to life with a minimum of 15 years before parole in March 2008.
But this was cut to 12 years after judges heard it was "manifestly excessive", and then again to 11 years after a second appeal.
This means she could be eligible for parole next year after spending time on remand.
Ms Barret said: "We've been let down from day one. Fifteen years for taking someone's life is absolutely nothing and then for it to be reduced to 12 and then 11 years is just not fair.
"If the sentences were tougher more people would think twice about picking up a knife and doing these horrible things."
Miss Madgin's son Callum has been brought up by his grandmother Alison, who also said tougher sentences were needed to deter offenders.
She added: "The young people who are committing these crimes are getting sentences which aren't making any difference to them."
In the decade since Miss Madgin's death, BBC Newcastle has learnt that serious knife crime in the Northumbria Police area has fallen by 20%.
In 2007, the year she died, there were 405 serious crimes in the force area involving a knife - including 10 murders.
Last year there were 329 knife crimes recorded and two murders.
Acting Det Ch Supt Peter Bent said campaigns to keep knives off the street were working.
He said the force targeted people known to carry knives as well as shops suspected of selling them illegally.
"We also do work with younger people, youth offending teams and schools to get the message across that its not alright to go out with kitchen knives," he said.