Northumbria Police chief Steve Ashman to retire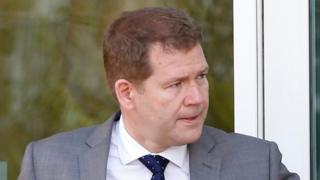 Northumbria Police chief constable Steve Ashman is to step down after spending just over two years in the job.
Mr Ashman was appointed in June 2015, but has been with the force since 2009.
The former Met and Cleveland Police officer said he wanted to "pursue opportunities away from policing".
Northumbria's police and crime commissioner Dame Vera Baird said Mr Ashman had led the force during a "difficult period".
In a statement Mr Ashman, who will retire in November, said: "I have served for 30 years in three different forces and it is time for me to move on.
"I am hugely proud of each and every one of the officers and staff that work within Northumbria and I am constantly humbled by the work they do every single day.
"That they continue to do this under the most immense pressure and with fewer and fewer resources makes them all the more remarkable.
"I have enjoyed an excellent partnership with the police and crime commissioner and I will always be grateful to Dame Vera for giving me the opportunity to lead this force and the personal support she has always given to me.
"I look forward to pursuing opportunities away from policing and to spend time with my family."
Dame Vera Baird said: "Mr Ashman has served our communities for 30 years, the latter part of his career here in Northumbria.
"He has had a remarkable career, making a positive difference in every role he has undertaken.
"He has led Northumbria through a difficult period financially, but his policing skills and knowledge have ensured that we have been able to secure the resources to provide the policing services that local residents prioritise.."
Last year Mr Ashman successfully defended claims he was a "monster" by a colleague who accused him of bullying and sexism.
The force's former head of legal services Denise Aubrey lost a claim for unfair dismissal in May 2016 after she was sacked for gross misconduct.
Mr Ashman said many of the allegations were based on "speculation, rumour and innuendo".