Blyth park attack: Dog 'had previously attacked children'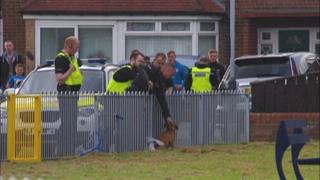 A dog that bit 12 people in a park in Northumberland had already been the subject of a destruction order for attacking children, a court has been told.
The Staffordshire bull terrier ran into a play area at Burns Avenue, Blyth, in May 2016, Newcastle Crown Court heard.
Claire Neal, 38, of Blyth, denies owning a dog dangerously out of control.
Leanne Patterson, 35, also from the town, denies being in charge of a dog that was dangerously out of control.
The court heard Ms Neal had already been banned from owning the animal because of a previous attack and claimed she was no longer its owner.
Dog found wandering streets
The court also heard she later told police she had been out at the time but that her friend Ms Patterson, who was staying with her, was to blame for allowing the dog to escape.
Shortly before the park attack, the dog, called Marley, was found in the street by a teenage girl who was taking it home with her with the intention of asking her mum to contact the RSPCA.
However, Marley broke free and ran into the play area and grabbed a ball, bursting it with its teeth.
Giving evidence via video link, the girl said after one child tried to take the ball back from the dog it jumped onto her and began to bite her.
She said it then continued to bite any child that took the ball.
Neighbour's fence rescue
Prosecutor Stephen Grattage said the dog had escaped from Ms Neal's house by squeezing under a gate and the court was shown CCTV footage of this recorded by a neighbour.
He said: "The dog she had come across was not nice, it was a dangerous dog. It had been let loose before and had attacked young children."
He told the court a neighbour called Neil Wilkinson dashed out to help after hearing screams in the play area.
"[He] heard the usual sounds of children playing in the park turn to screams and he ran across and saw the dog attacking six or seven children.
"He started putting children with injuries over the fence, some had lots of blood on them."
Nine children were treated in hospital with three kept in overnight.
The trial continues.