'Pitman painter' forger Richard Pearson ordered to pay £1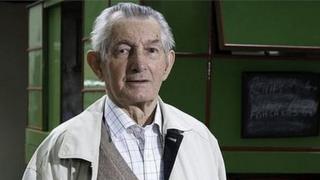 A fraudster who made thousands by forging works by "pitman painter" Norman Cornish has been ordered to pay back £1.
Richard Pearson, 56, from Sunderland, passed off 14 drawings and pictures to a gallery in Northumberland, leaving it more than £30,000 out of pocket.
He admitted fraud and was jailed for three years in January.
At a proceeds of crime hearing, Newcastle Crown Court heard that Pearson had few assets.
Cornish, who died in August 2014, was a former miner who learned his craft at an art course run for pitmen at Spennymoor Settlement in County Durham.
Pearson was caught out after he made a "school boy error" when he used post-decimalisation prices on a fake receipt he claimed was from the 1960s, the hearing in January heard.
Four of the fakes were sold on to private collectors and the gallery in Corbridge, Northumberland, had to refund them their money.
Pearson pleaded guilty to nine charges of fraud, two of forgery and two of using a false instrument with intent between December 2011 and February 2014.
Jailing him, Judge Edward Bindloss said the fakes were "convincing" and had caused confidence in the international art market to diminish.