Service marks Blyth beach wartime drowning tragedy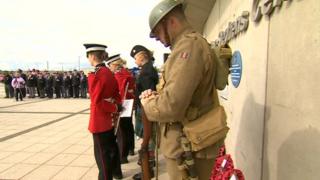 A ceremony has been held on a Northumberland beach to mark 100 years since nine soldiers lost their lives in the water.
Soldiers from the Royal Warwickshire Regiment had stopped to swim off Blyth beach during a training exercise but nine were swept out to sea and drowned.
Most were from the West Midlands and all but one teenagers.
Relatives attended the ceremony while the Last Post was played and a plaque unveiled at Blyth Battery.
Newspapers of the time described the event on 24 August 1917 as a "shocking tragedy" and documented "distressing scenes" of soldiers forming a human chain to try to reach those caught in the undercurrent.
At the inquest, it emerged that the stretch of water - between the West Pier and Link House - was known to be dangerous at low tide.
It also uncovered the total lack of sea swimming experience among the men from the West Midlands, some of whom had never seen the sea before.
Andrea Potter, the great niece of Pte Jessie Blunn, said at the ceremony: "When we had family gatherings it was always talked about. It was a great loss, he was only 17."
Those who drowned were:
* Pte Edward Beavon, 18, from Saltley
* Pte Thomas Fortey, 19, from Birmingham
* Pte Harry Blanchard Southern, 18, from Aston Manor
* L/Sgt John Riley, 24, from Ladywood
* Pte Jesse Blunn, 17, from Kings Heath
* Pte Frederick Shale, 19, from Handsworth
* Pte Edward Noy, 18, from Penzance
* Pte William Henderson, 18, from Weston-super-Mare