SS Ottercaps drownings: Exhibition highlights Sunderland loss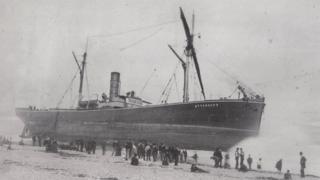 An exhibition highlighting the impact of the SS Ottercaps maritime tragedy on Sunderland has opened in the city.
The steamer went down off the coast of Brittany in 1903 with the loss of all its 16 crew, a disaster which affected Sunderland profoundly.
Sunderland Volunteer Life Brigade has tracked down some of the descendents, who have provided family histories, photographs and stories.
The exhibition, at the brigade's Watch House, runs until 10 September.
SS Ottercaps was carrying a cargo of iron ore from Bilbao to Middlesbrough when it ran into a storm and was reported lost, close to an area known as the Bay of the Dead.
The bodies of 15 of the 16 crew were eventually recovered and buried in two cemeteries in France.
All but two of them lived in Sunderland, and the loss to the town was profound, as it left 14 widows, and 82 children and young people without fathers.
The exhibition's organiser, Katy Gill, said: "There are a few crew members about whom we know very little and, if anyone has a connection with the Ottercaps or its crew, we would love to hear from them.
"Also the little boy rescued in 1890 by Sunderland VLB has never been identified.
"Someone may have heard a family story about an ancestor being rescued at Sunderland - if so, we would be very pleased to hear from them".
In 1890 the brigade - which is currently celebrating its 140th anniversary - rescued crew and passengers from the vessel when it went aground close to Sunderland's South Pier.